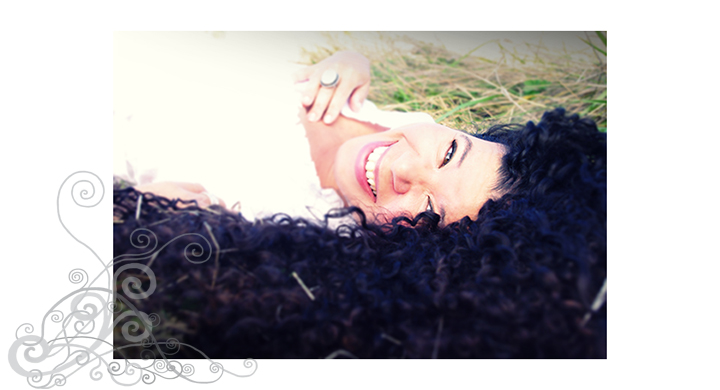 Teri Says
© 2010 Teri LaFlesh
There is no such thing as being tender headed. If a child has functioning nerve endings, tugging on curly hair really really hurts. The good news is that combing absolutely doesn't have to hurt. Make sure to comb your child's hair when it's wet, and with a good, slippery conditioner in it. Use a Denman type brush, or a wide tooth comb. Start at the bottom of the hair and work in sections. Most importantly, when you hold her hair to comb it, pinch the hair firmly in your fingers between her scalp and the spot you're combing. This will help very much to keep it from hurting.
Teri LaFlesh is the author of Curly Like Me: How to Grow Your Hair Healthy, Long, and Strong.
***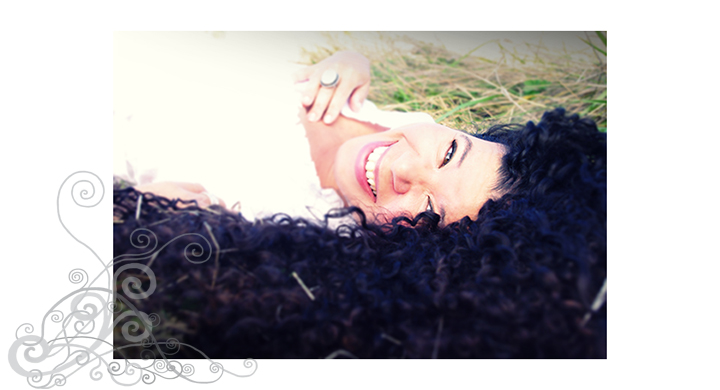 Teri Says
© 2010 Teri LaFlesh
The best thing to do at night to prevent tangling is to never ever brush, comb, or finger comb your child's hair when it's dry. When you are between washings, simply put her hair (when it's long enough), in several braids or twists to protect it at night. In the morning you can undo her braids (or twists), and again don't brush, comb, or finger comb her hair (that just creates huge frizz and matting). Instead, wet your hands, put a bit of a good, slippery conditioner on them, rub your hands together, and smooth your hands over your child's curls. Repeat as necessary until the flattened and fuzzy spots are gone. Her curls will spring back to life as her hair dries.
Teri LaFlesh is the author of Curly Like Me: How to Grow Your Hair Healthy, Long, and Strong.
***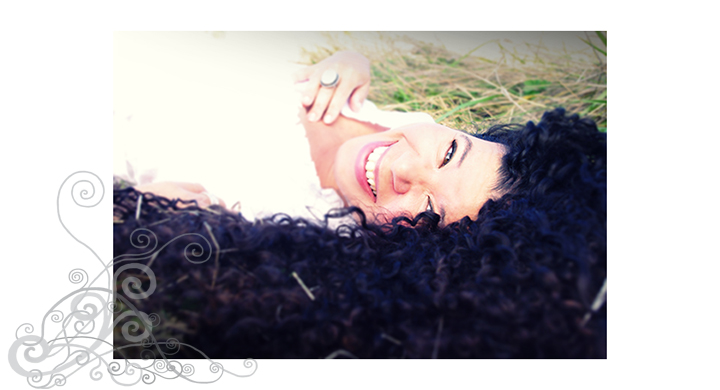 Teri Says
© 2010 Teri LaFlesh
Your child's curls are stunning and unique. When you take the time necessary to care for her natural curls, it lets her know that she is worth the effort, and that you love and accept her as she is. Hair should never be treated as a punishment or as a handicap or a nuisance. Many well meaning people might tell you that the only way to care for such curly hair is to alter it in some way, like through relaxing, flat ironing, or pressing it. This is absolutely not true, and these methods may even burn your child.  However, once you learn what curls need, they are easy to care for, and will reward you with joyful spirals that get lots of compliments.
Teri LaFlesh is the author of Curly Like Me: How to Grow Your Hair Healthy, Long, and Strong.
***
I usually wash my hair every other day. Last week, I washed it once. What a difference a change in routine makes.
After I met Teri LaFlesh, I washed my hair like usual and combed through a conditioner. Then I followed her advice. I sectioned my hair, smoothed each of my curls and let the curls set. It took about 45 minutes. At night I twisted my hair and covered it. (Teri suggested I braid my hair at night, but I didn't like what that did to my curls. Twisting my hair seems to be just as effective and doesn't smoosh my curls.) In the morning, I took a little conditioner and water and smooth it over my curls. I followed the routine for five days, and it was the first time I've ever gotten multi-day hair from one wash and condition.
This means I can use up all of those expensive conditioners and gels and never purchase them again. This means I can buy everything I need for my hair on the ground and avoid exorbitant shipping and handling fees. This means my bathroom counter will no longer be littered with bottles and jars of conditioner and gel in every size and shape.
I like Teri's method for several reasons. First, she uses it herself. Second, her method doesn't require five products that cost $20 apiece. All of the shampoos and conditioners she uses can be found at local stores. Third, she provides much of the information found in her book on her web site, Tightlycurly.com. Fourth, and most importantly, I can use it on Simone and Nadia's hair.
I once had a simple routine. When I found online hair sites, I became a product junkie. No more. This method works for me and I am sticking to it. It reminds me of when I was a little girl and Mom did my hair. The routine was so simple. Mom washed my hair every two weeks and greased my scalp with Vaseline. She kept my hair braided or twisted most of the time. My hair flourished. Simple really is better. Thanks, Teri.
***
Curly Like Me
By Teri LaFlesh
I had only one question for Teri LaFlesh. How do I avoid cutting my hair? She had an answer, but first a little background.
The Curl Whisperer trimmed my hair in November, and I had hoped it would be the very last hair cut I would ever have. I loved the cut. It's just I don't live in Florida, and going back to see her will be a tad expensive. I had read on Teri's Web site — Tightlycurly.com — that she had not cut her hair in more than 10 years and that's how she had grown her hair so long. For years, I faithfully got a haircut every six weeks. As a result, I was stuck with shoulder length hair. I figured I'd get one last haircut and grow out my hair.
I moisturized my ends and kept my hair in protective styles for most of the winter.  When it warmed up a bit, I started to wear my hair down. This apparently angered my hair. It snagged, it tangled, it matted. I had tons of those little teeny weeny fairy knots. I trimmed my hair with a pair of shears. When that didn't help, I made an appointment at a beauty school.
About a year ago, I went to the same beauty school and received a haircut on dry hair. (I also had visited the beauty school several times when we lived in Florida.) I like going because the students are eager to learn and exercise patience with my hair. It is also a steal. A haircut costs $15.
When my student saw me and my hair, I could see fear in her eyes. Not to worry, I told her. I will talk you through it. My last student received a good grade. She went to get her instructor, and I explained that I would like to have my hair cut dry just like last time.
"We don't teach them how to cut like that," the instructor said.
She explained the student would need to wash my hair, sectioned it and then cut it. No, I protested. Stylists had done this before and I was left with all of these random wayward and droopy curls. She suggested the student wash my hair, blow dry it straight, and then cut it. I wanted no part of that. For starters, I have at least three curl patterns on my head. Treating them all the same sounded like disaster to me. I think the words I used were "hot mess." Besides, I hadn't had my hair straightened in more than a decade.
At this point, I should point out that Ken, my husband and best friend, says that I can be a bit forceful when I want something. While I think I am being the nicest person on the planet, he said that's not the way I come across. That said, he said he was surprised by what happened next.
"Well, I don't know what we can do for you. We can't cut it dry because it has product in it. I can get another instructor. If she can't help you, you may have to leave."
Leave?  But I am the customer. Isn't the customer always right? I'm at a school where I received a dry cut a year ago, and today I may have to leave?
"Okay, get another instructor. If she can't help me, I'll leave."
The second instructor took a look. Clearly, my hair was no problem for her.
"Hair is hair," she said. That's what I'm talking about.
I told her the same thing I told the first instructor. She got it. She said the student had to wash the product out of my hair, which was fine. I've had a wet cut with some success in the past as long as the stylist was gentle. It was what the instructor said next that made me agree to do it. She told the student to cut each section separately and not try to match one layer to another. The student followed the instructions, and the instructor checked her work. I walked out of the salon with a good cut two hours after this hair odyssey began. My goodness.
I don't want to go through that ever again, which is why I had that question for Teri. I met her at the Mixed Roots Film and Literary Festival. When I asked her to sign my book, the schedule was tight. I saved her from the drama of the story. I  just told her I recently had to get my haircut and I'd like to avoid doing so in the future.
She asked one question. "How do you put your hair up at night?"
"I cover it with a satin bonnet and sleep on a satin pillowcase."
Teri suggested I braid my hair at night to protect the ends. When I get near the bottom, twist the hair, she said. I also know from reading her book and her Web site that she also folds up the very end of the braid and tucks it inside the plait. That has to be the key, I told her, and I'm on Day 2 of the new night regimen.
I devoured Curly Like Me during the plane ride home. It is chocked-full of science, practical advice and easy-to-follow hairstyles. Teri tells her own hair story and weaves in advice. Readers also will learn a few new words, including "sploosh," which happens when the conditioner oozes through your fingers. I am putting Curly Like Me in our personal library and will purchase a few copies as gifts for some curly girlfriends. In the meantime, my hubby says he wants a full accounting of all the money I spend on books and hair products for the girls and me.
There are plenty of hair products for children, but I don't see the need to have a shampoo and conditioner for me and another set for the girls. It's just another way companies separate you from your cash.
When we're out and about, parents of curlies often ask how I maintain Simone and Nadia's hair.
Here's the answer: We're a sulfate, silicone, and paraben free family.
Sulfates are drying. They are harsh detergents and strip oil from the hair. Silicone is like a plastic and gives the appearance of shiny, healthy hair. Some silicones also are difficult to wash out of your hair, unless you use shampoos with sulfates. If you don't apply silicones to your hair, there's no need for sulfates. As for parabens, they're just controversial. If it's not needed, why bother. The bottom line: None of those chemicals are needed to achieve beautiful hair.
Sunday is hair day at our house. I wash Simone and Nadia's hair with castille soap, put a dollop of conditioner on their hair, and then detangle with a wide-tooth comb. I start detangling at the ends and work my way up to the roots. When I am finished, I leave in the conditioner and allow their hair to air dry.  In the mornings, I use hair milk to help tame the frizzies.
The castille soap costs about $6 for an 8-ounce bottle. Conditioner runs about $14, and the hair milk goes for about $12. All three will last a long time, as long as they are kept out of reach of little hands.
We have added coconut oil to our daily hair routine. It is a light oil, gives a lot of shine, and tames the frizzies. It is also less expensive than Hair Milk and can be used by the girls and me. Nadia (pictured above) has very fine hair, and this oil is light enough to use every few days or so. I apply it to Simone's hair daily, and it helps keep her hair smooth and tangle free. As for me, I use it to seal my hair after I moisturize it with a conditioner.
Coconut oil may be purchased at many natural food stores. Our coconut oil is infused with Ayurvedic herbs, and I buy it at a local Indian store for about $6.  If you go to your local Indian store, be sure to read the label and buy the pure coconut oil, not mineral oil. The latter just sits on the hair, while coconut oil is easily absorbed into the hair.  Check it out and tell me what you think.
***
When I learned I would be in Florida on business, I made an appointment with the Curl Whisperer. I had been reading all about her advice on curlynikki.com, and I wanted to see for myself whether she could tame my curls.
First, I showed her a picture of Simone and Nadia and told her about their hair. The Curl Whisperer recommended Aubrey Organics GPB for Nadia's hair. It has protein in it and that will be great for her fine tresses. For Simone, she recommended Aubrey Organics Honeysuckle Rose, which is protein free and more appropriate for thicker hair.
We then moved on to my hair. I was concerned about breakage and didn't know what kind of porosity I had or whether I was protein sensitive. The Curl Whisperer said I simply needed a trim to help with breakage. That was good news. I had thought she would have to do a drastic cut. She said I had normal porosity and said my more coarse strands would not like any protein. Armed with that information, I can better choose products with the proper ingredients for my hair.
She gave me a dry trim, washed my hair, and rinsed it with cool water. My curls really liked the spa treatment and formed perfect little coils. She applied a little of Curl Junkie's Curl Assurance Aloe Fix Hair Styling Gel and sent me on my way. I paid the Curl Whisperer and left a tip I hope conveyed I appreciated her curly advice. I wanted to buy her a plane ticket to my home, but it turns out she likes living in Florida. That's okay. I will just add a trip to see her to my long list of excuses to visit Florida.
***
When it comes to all things hair, I take the simplest route possible. I do not create intricate styles or use a lot of color. My hat is off to those who do. Beads, Braids and Beyond and Happy Girl Hair have this down to a science. I see the intricate styles they create and I am in awe.
I focus on the health of the hair, and I have found the Flexi-8 instantly adds a little style. It is a contraption that holds all of the hair comfortably. It is ideal for French twists and other up-dos, even the traditional ponytail. This hair tool is incredibly flexible so that you don't hurt yourself or your hair using it on a regular basis. It also does not tear or pull at the hair like a scrunchy.
Flexis come in several sizes, and a few of them are designed for little girls. Simone has taken an interest in Tinkerbell, and there is one with blue wings and one with pink wings that I purchased for Simone and Nadia. Now these are on the pricey side — 13 bucks apiece — so I will reserve them for special occassions and other times I know they will return home.