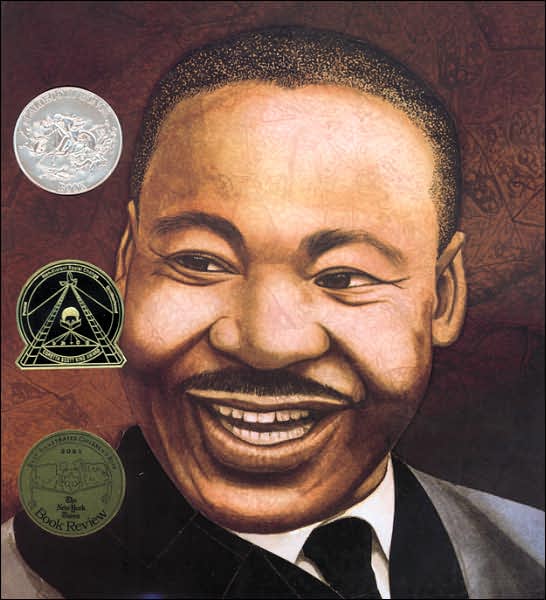 Martin's Big Words: The Life of Dr. Martin Luther King, Jr.
By Doreen Rappaport
We read this book all year long.  Simone and Nadia, who have an ear for lyrical text, pull it off the shelf on a regular basis. The lessons are obvious but still need to be taught or preached. I want Simone and Nadia to know they can do anything and they shouldn't shy away from using big words. Among the other lessons: standing up for what's right, standing up for others, and peacefully pursuing a purpose.
The book is written for children 4 and older, and tackles tough subjects with grace. The picture book begins with King's experience of seeing "White Only" signs in his hometown, and his mother makes sure he knows he is "as good as anyone." Young readers and listeners receive an introduction to the civil rights icon and some history about him, including his role in the Montgomery Bus Boycott and a march for the Sanitation Workers' Strike in Memphis. "On his second day there, he was shot. He died."
This is the only children's King book we own, and for now it is all we need.
As a young journalist in Montgomery, Alabama, I learned about Martin Luther King and his philosophy from those who had walked beside him. I heard the stories of the movement from those who had lived through them. I listened with rapt attention as Johnnie Carr and Coretta Scott King told me about the man who was assassinated before I was born.
I was there, though, in the mid 1990s when the anniversaries of the Montgomery Bus Boycott and the Selma-to-Montgomery March drew the Rev. Jesse Jackson, Rosa Parks and the Rev. Joseph Lowery back to where it all began.
That's why I don't regard King Day as the usual holiday. It's living history. It's not like the holidays when I buy clothes on sale, or eat barbecue or hand out presents. I, for one, am glad the holiday hasn't been distorted by retailers. Instead it's a day of reflection, a reminder.
My earliest memory of celebrating King was in 1981. A group of us 10- and 11-year-olds were sitting in music class, where we sang or played instruments. When the music lesson was over, our teacher wheeled out the record player for a little history. If we behaved, she told us, we could listen to some music.
She pulled an album from behind her desk, the one with Stevie Wonder on the front wearing beads on his braids. She pulled the disc from its sleeve and carefully put the needle on the album. Stevie began to sing:
You know it doesn't make much sense
There ought to be a law against
Anyone who takes offense
At a day in your celebration
"Happy Birthday" was Stevie's rallying cry to pass legislation making King's birthday a national holiday. We bobbed our heads, the only sign that we were listening. Talking was not allowed.
Back then, I thought King already had a federal holiday. But that didn't happen until I was in high school in 1986, when the holiday was officially celebrated. Even then, not all of the states followed suit. New Hampshire was the last state to recognize the holiday and signed on in 1999.
On one Jan. 15, long after Congress passed the law, a group of friends and I gathered at a home in Birmingham. There was a cake and a speech. We lit candles, sang "Happy Birthday" and blew out the candles. I consider it my best King Day yet.
A version of this essay first appeared on The Root.