There I was, sitting in the tiny blue chair, parked at the miniature desk. My knees were hiked up to my chest as I listened to the teacher explain all the rules, procedures and expectations.
I looked up to her, Simone's first grade teacher. I had no choice. She stood during the talk while we parents sat in little seats. I took a few notes and asked a couple of questions. I don't know about any of the other 20 or so parents packed into the classroom that day, summoned there by the teacher, but I definitely feel like I am going to first grade again.
There is math homework and reading homework and spelling homework. Real homework. There are grades. No more of that wimpy smiley face and check mark stuff from kindergarten. It's my duty, I learned, to explain a 99 is still an A.
My mom had it so easy. I went to school, and she did whatever came naturally. She didn't have to check and sign first grade homework, at least I don't remember her doing so. She didn't read to me every night and then write down the books in my reading log. There were no classroom blogs or constant emails.
First grade is going to be a lot of work, not only for Simone, but for me. Her teacher was whipping the parents into shape, telling us the dos and donts. I tried to be a good student, but I thought it would never end. My mind wandered, my knees ached. Finally, first grade boot camp for parents ended. I extricated myself from the tiny chair, unfolded my legs, and graduated back into adulthood.
Simone's first spelling test is on the horizon. I quizzed her on the first list of 10 words, and she asked me what I was doing.
"Helping you study for your spelling test."
"Oh."
We'll do a mock test before the big day, because I want to show her teacher this big kid student listened well.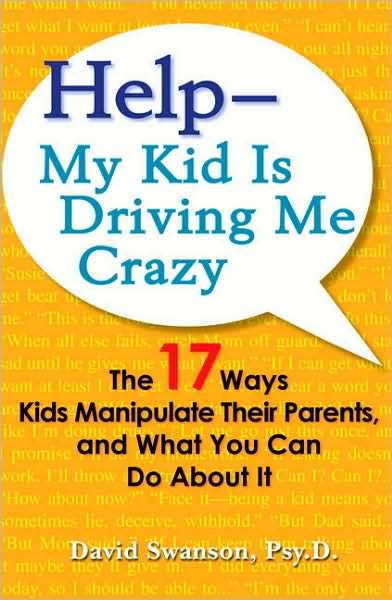 Help – My Kid Is Driving Me Crazy: The 17 Ways Kids Manipulate Their Parents And What You Can Do About It 
By David Swanson Simone and Nadia manipulate us on a daily basis. I think children come preprogrammed like a computer. There is the whine software, the beg application, and the cry database. That said, the girls aren't quite as sophisticated as some children in this book, and I am passing this on to a mother or father who can use it. 
A few examples: 
"Let me go just this once, and I promise I'll do all of my homework." "But Dad said …" "Susie's parents are cool. What's wrong with you?" Sound familiar? Leave a comment by 11:59 p.m. (CST) Oct. 2 about how your child manipulates you, and the book can be yours. Simone will point to the winning entry on my computer screen, and I'll notify the winner.